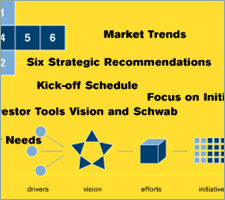 selected topics and models from final presentation
(the content is highly sensitive and can't be shown here)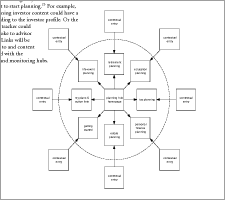 detail of conceptual model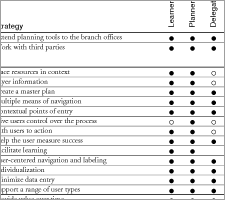 detail of use-case/user matrix
CASE STUDY
Schwab Investor Tools Strategy

Overview

Schwab asked Razorfish to create a strategic direction for their planning and monitoring tools. Working closely with business strategists, I analyzed the user experience aspects of the tools, and identified opportunities for strategic improvement. In addition to setting a strategic direction, the project also built consensus among the various investor tools project managers within Schwab.

Activities


Audited tools and strategies of competitors' sites.
Identified strengths of Schwab's tools offering and areas which needed improvement.
Examined needs of both Schwab customers and non-customers.
Worked with business strategists to formulate a plan that both improved user experience and promised financial rewards for Schwab.
Prepared a presentation and framework for use by the Schwab team to explain the strategy within Schwab.

Benefits


Builds a shared vision of the future of investor tools.
Helps Schwab allocate limited budgets to high-priority tools.
Leverages investor tools to help Schwab acquire and retain customers.